BootBurn STRONG ACTIVE 1000
The ultimate fat burner with a synergistic combination of 1000 mg of the purest L-carnitine from Switzerland and 3 high-power thermo burners (guarana, green tea and mate tea).
Smart ingredient combo starts burning fat immediately, lasting 4 hours
Triple action: increases body temperature to burn fat, turns fat into energy and increases endurance
The added B-complex allows our smart ingredient combo to turn the food you consume into more energy instead of fat
Works with or without exercise*
FREE GIFT

The ultimate e-book for an even smoother weight-loss journey and guaranteed results.
Contents: 15 sachets for 15 days
30-Day Money-Back Guarantee
If for any reason you are not completely satisfied, simply return the empty package and get a full refund. More
Buy
Try
Return
Money back
Our powerful BootBurn STRONG ACTIVE 1000 fat burner is now even more effective and has a prolonged 4-hour effect. A new mixture that triggers increased fat burning and prolongs it for several hours - the same effect would never be reached with only one active ingredient!
"My weight-loss journey has changed my life and I feel so much more active. I exercise regularly and every day I feel more confident. I'm happy to look in the mirror in the morning."
"After a month, I noticed I lost 6 kg. I discovered that my old clothes became looser and that I needed to size down."
"I would recommend these products to anyone that's trying to lose weight, improve their athletic performance and boost their energy levels throughout the day."
"Summer is over, but we can't give up! Lets increase our efforts to stay in shape... We have to keep our metabolism awake!
"I'm proud of my new body. My husband can't believe the transformation.
"I've lost a total of 11 kilos using these products and I wouldn't hesitate to recommend them."
"I lost weight and inches around my thighs, stomach and arms. I'm a lot more confident and happier with how I look."
"After a few months I succeeded in reaching my goal of losing 10 kilos."
"I feel much better, I have no problems with my digestion anymore and I've noticed that I look slimmer. I feel confident and look forward to getting dressed in the mornings."
INCREASED FAT BURNING
BootBurn STRONG ACTIVE 1000 now has an even more powerful formula than our previous fat burners: it contains double the amount of L-carnitine, green tea and mate tea.
"Unity is strength" is an accurate description for BootBurn STRONG ACTIVE 1000: each ingredient helps transform fat into energy, but together, they have a synergistic effect on fat loss.
AMAZING EFFECTS
Active ingredients with a powerful effect on fat burning
Prolonged fat burning for up to 4 hours after ingestion
Raises energy levels
5x faster weight loss*
The thermogenic effect of BootBurn STRONG can reduce up to 16% of fat.*
Contains all-natural ingredients, that raise the internal body temperature and boost the burning of calories - even when resting. Your body could be burning more fat, even when you're just sitting.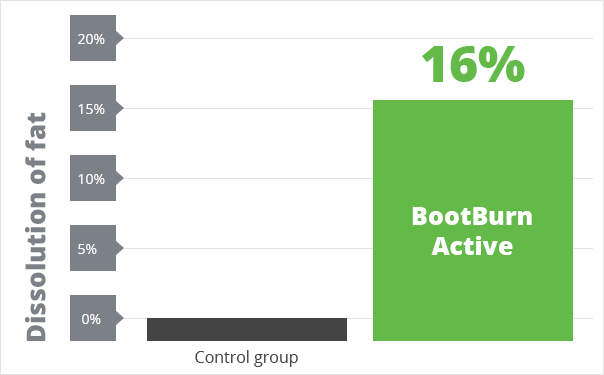 BootBurn STRONG Active is an active thermoburner, that help raise body temperature in a natural way. You won't feel it, but the results will be noticeable. Fat reserves from the stomach and hips will disappear before you know it!
*[Results may vary. Dietary supplements should not be used as a substitute for a varied and balanced diet and a healthy lifestyle, which are important.]
THE SECRET TO SUCCESS: ALL FOR ONE, ONE FOR ALL
Green tea, mate tea and guarana are well-known thermo burners, which make the body speed up fat burning to produce more heat.
L-carnitine is essential for burning fat and producing energy. It is like a public transport system that carries most of the fat we consume (long-chain fatty acids) to the fat-burning core of our cells, the mitochondria. Without L-carnitine, we could not burn fat or get energy from it!
Combined with B-complex, without which we could not transform food into energy, BootBurn STRONG ACTIVE 1000 has even more functionality: it raises energy levels, prevents fatigue and increases performance.
HOW CAN BOOTBURN STRONG ACTIVE 1000 HELP?
Improves the fat-to-muscle ratio
Boosts fat burning
Helps the body tone up
It works even when you are not active but brings better results if combined with physical activity
Contents: 15 sachets for 15 days
Food supplement
Ingredients:
Carrier: corn dextrin, L-carnitine L-tartrate – 1000 mg, guarana seed extract with 10% caffeine, green mate leaves extract with 20% caffeine, green tea leaves extract with 90% polyphenols and 5-9% caffeine, papaya mature fruit powder with 1500 USP units proteolytic activity of papain (contains max. 0,1% lactose), natural mango flavour, B-complex premix [nicotinamide – 16 mg (100% NRV*); carrier: maltodextrin; D-pantothenate – 6 mg (100% NRV*), calcium; D-biotin – 50 μg (100% NRV*) ; cyanocobalamin – 2.5μg (100% NRV*); pyridoxine hydrochloride 1.4 – (100% NRV*); riboflavin – 1.4 mg (100% NRV*); thiamine mononitrate – 1.1 mg (100%NRV*); pteroylmonoglutamic acid – 200 μg (100% NRV*)], acidity regulator: citric acid, anti-caking agent: rice concentrate, sweetener: sucralose. *NRV = nutritional reference values.
How to use:
The recommended daily dose is 1 sachet dissolved in a glass of water after a meal. For optimal results, take it 30-60 minutes before physical activity.
Warning:
If you are hypersensitive or allergic to any of the product ingredients or use medication, consult your doctor before use. This product is not recommended for pregnant or breastfeeding women.
Important:
Recommended daily intake should not be exceeded. Food supplements should not be used as a substitute for a varied and balanced diet and a healthy lifestyle, which are important.
Storage:
Keep out of the reach of children! Store in a dark, dry place at a temperature below 25°C.
NET WEIGHT: 45 g
Studies:
1. R. Hursel, W. Viechtbauer, M. S. Westerterp-Plantenga. (2009). The effects of green tea on weight loss and weight maintenance: a meta-analysis. International Journal of Obesity (2009) 33, 956–961. Available at: https://www.nature.com/ijo/journal/v33/n9/full/ijo2009135a.html
2. Pouyandjoo, Morvarid & Nouhi Jadesi, Mojtaba & Shab Bidar, Sakineh & Djafarian, Kurosh & Olyaeemanesh, Alireza. (2016) The effect of (L-)Carnitine on weight loss in adults: A systematic review and meta-analysis of randomized controlled trials. Obesity Reviews. 17. 10.1111/obr.12436. Available at: https://www.researchgate.net/publication/303107660
3. Müller DM1, Seim H, Kiess W, Löster H, Richter T. (2002). Effects of oral L-carnitine supplementation on in vivo long-chain fatty acid oxidation in healthy adults. Metabolism. 2002 Nov; 51(11): 1389-91.Available at: https://www.ncbi.nlm.nih.gov/pubmed/12404185
4. Wutzke KD1, Lorenz H. (2004). The effect of l-carnitine on fat oxidation, protein turnover, and body composition in slightly overweight subjects. Metabolism. 2004 Aug;53(8):1002-6.Available at: https://www.ncbi.nlm.nih.gov/pubmed/15281008
BootBurn STRONG ACTIVE 1000