20-day Slimming Programme
Morning and Evening slimming duo to kickstart your diet with NON-STOP draining effect!
A revolutionary solution for fast slimming results
Purifies the lymphatic system and stimulates water-weight reduction
Enriches blood with oxygen and optimises fat metabolism
Our guarantee!
NON-STOP effect with smart treatment duo
FREE GIFT

Complete 52-page weight-loss guide FREE with your purchase. Easy to follow and guaranteed to work steps to a perfect figure. Amazing recipes included.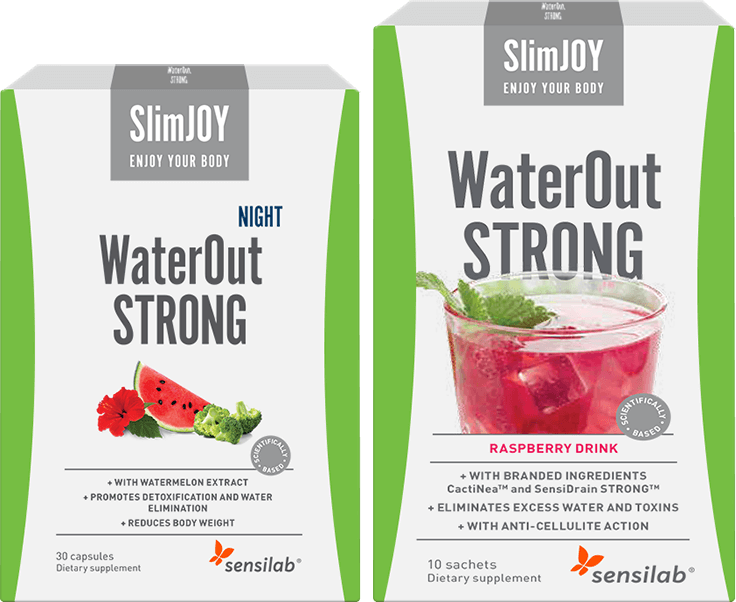 Contents: WaterOut STRONG 10 sachets + WaterOut STRONG Night 30 capsules
For 15 days
30-Day Money-Back Guarantee
If for any reason you are not completely satisfied, simply return the empty package and get a full refund. More
Buy
Try
Return
Money back
Reset your lymphatic system, enjoy the fastest slimming effect possible and get rid of the problem that caused weight gain in the first place.
See user test results:
extremely effective weight-loss drinks that bring dramatic results
27% less water and toxins
60% less bloating and swelling in just 1 week
Visible weight-loss results in just 10 days
80% of users wanting more
3 times stronger draining effect
As an added bonus, it helps reduce cellulite and enables us to retain essential minerals despite losing excess water.
Providing fast and impressive results, WaterOut enjoys the full support of 80% of its users! With its new and improved formula, the sky is the limit!
ACTIVATE THE LYMPH AND KICK-START YOUR FAT BURN
When your lymph is jammed, toxins and fats start accumulating in your body – making it impossible for you to lose weight:
The lymphatic system can be thought of as the body's drainage system, as it filters and eliminates excess water and waste from the body. Additionally, it enables the transport of fats and fat-soluble vitamins and facilitates their absorption.
When the lymph is clogged, all the toxins and fats are stuck in your body, which is why you may feel bloated and find it impossible to lose weight.
WaterOut STRONG and WaterOut STRONG Night make sure to reduce congestion and improve your circulation, providing the cells with much-needed oxygen for fat metabolism 24/7.
"My favourite skirt became too loose after just a few weeks!"
"I had the same problems most women have: extra weight and bloating. And since I felt really bloated and swollen, I drank less. Big mistake - I only felt worse! That's why I decided to try both WaterOut STRONG products, the day and the night one.
I wanted to get rid of bloating, extra kilos and I wanted to stop feeling sluggish. What could be better than shedding kilos at night? I was visibly less bloated after just a few days, and my favourite skirts became too loose in just a couple of weeks! These two products are the only thing that helped me – and in such a short time!"
- Alma
BRINGS SPECTACULAR RESULTS
Decreased water retention
Visible slimming effects
Reduced swelling of ankles and calves
Reduced swollen leg sensation
TOP-QUALITY WEIGHT-LOSS PRODUCTS Start your day with WaterOut STRONG drink and beat puffiness, bloating and water weight.
Take it regularly and enjoy its remarkable effect on your fat metabolism.
Take 1 sachet a day!
Take 2 WaterOut STRONG Night capsules in the evening and ignite the night-time weight loss process – which is crucial for quick results.
Innovative delayed effect will let you sleep peacefully and reveal its power the following morning.
Contents: WaterOut STRONG 10 sachets + WaterOut STRONG Night 30 capsules
For 15 days
Food supplements
Ingredients:
WaterOut STRONG
Prickly pear fruit powder with 0.05% betalains and 0.03% indicaxanthin, horsetail aerial parts extract, carrier: corn dextrin, sarsaparilla root extract, Java tea leaf extract with 2% potassium, raspberry fruit juice concentrate powder, natural raspberry flavour, acidity regulator: citric acid, artichoke leaf extract with 2-5% cynarin, milk thistle dried fruit extract, dandelion root extract with 3-5% chlorogenic acid and 12% inulin, red whole grape extract with 75% total polyphenols and 50% OPC (content of sulphites >10 mg/kg), anti-caking agent: rice concentrate, sweetener: sucralose.
WaterOut STRONG Night
Hibiscus flower extract with 10% total polyphenols, broccoli seed extract with 10% glucoraphanin, cinnamon bark extract with 20% proanthocyanidins, watermelon fruit extract, white birch leaf extract, anti-caking agent: rice concentrate, black pepper fruit extract with 95% piperine, capsules: hydroxypropyl methylcellulose.
How to use:
WaterOut STRONG
The recommended daily intake is 1 sachet dissolved in 1 litre of water and drunk throughout the morning. We recommend drinking plenty of fluids throughout the day.
WaterOut STRONG Night
The recommended daily intake is 2 capsules with a glass of water during a light dinner. Do not take on an empty stomach. Do not consume with acidic drinks (orange juice, fizzy drinks, ...). Do not combine with vitamin C. We recommend drinking plenty of fluids throughout the day.
Warning:
If you are hypersensitive or allergic to any of the product ingredients or use medication, consult your doctor before use. This product is not recommended for pregnant or breastfeeding women.
Important:
Recommended daily intake should not be exceeded. Food supplements should not be used as a substitute for a varied and balanced diet and a healthy lifestyle, which are important.
Storage:
Keep out of the reach of children! Store in a dark, dry place at a temperature below 25°C.
20-day Slimming Programme